SERVICE INFORMATIONPhoto Identification
: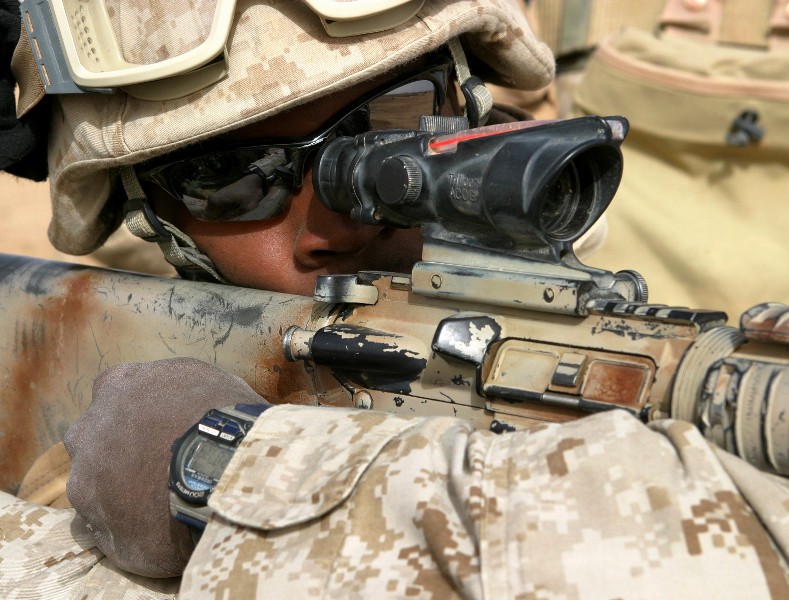 Name
: Matt Wolfe
Rank
: Private
MOS
: 0311 Rifleman
Billet
: Fourteenth Fireteam
Years of Service
: 1 month since graduation
PERSONAL INFORMATIONAge
: 19
Height
: 6'1
Weight
: 175 lb
Personality
: Matt is a friendly guy around close friends and family, but generally tries to keep to himself. He's very serious in combat.
History
: Matt Wolfe was born in Charlotte, North Carolina. He grew up in the outskirts of Charlotte with his parents and his older brother, Jon. His father was a former Army Officer, and the majority of family members on his father's side had once been, or are still, in the military. His brother, whom he was very close with, always excelled at everything and Matt lived most of his life in his shadow.
Jon graduated while Matt was still in grade school, and quickly joined the Marines. Matt also planned to join when he got older, but always had doubts because he knew that even his enemies had families. Once Matt was in high school, he joined the NJROTC to get an early start in learning the military way of life. He was an okay student academically, and had a lot of close friends who also thought about enlisting after high school.
In Matt's junior year of high school, he learned to stop thinking about the feelings of enemies. He got the news that his brother had been killed in the line of duty. Bullet through the heart. Things became personal, and as soon as Matt graduated, he enlisted in the Marine Corps.
MEDICAL INFORMATIONEye Color
: Brown
Hair Color
: Dark Brown
Medical Conditions
: N/A
Wounds
: N/A
SUPPLY INFORMATIONWeapons
:
Standard SAW Operator Equipment
M249 Squad Automatic Weapon
M67 Fragmentation Grenade x2
M18 Smoke Grenade x2
M84 Stun (Flashbang) Grenade x1
Equipment
:
Marine Corps Uniforms


Marine Corps Combat Utility Uniform x4
Woodland x3

Desert x2
Blouse (jacket)

Trousers
OD Undershirts x4

"Wooly-Pooly" Sweater

8-Point Utility Cover x2
Woodland

Desert
Bonnie Cover
Woodland

Desert
Suede Coyote Brown Infantry Combat Boots

Suede Coyote Brown Jungle Boots

Khaki Web belt

MCMAP Color coded Belt

Coyote Brown Polartec fleece

E.C.W.C.S. Gortex MarPat Jacket
Woodland

Desert

Snow

Black/OD/Coyote Tan Boot Socks x3

Physical Training


OD PT Shorts

Running Shoes "Go fasters"

Ankle socks x6

OD Sweater w/ EGA stamped on

OD Sweatpants

USMC Track Jacket

USMC Track Trousers

Neon yellow Safety Belt
Service Uniform


Alpha Blouse

Bravo Blouse x3

Charlie Blouse x2

Service Uniform Trousers x2

White Undershirt x3

Corframs Dress Shoes(Bates)

Garrison "Pisscutter" Cover w/ small black EGA

Barracks Cover w/ large black EGA

Necktie w/ Clasp

Black Socks Knee high x2
Dress Uniform Enlisted


Dress Blue Trousers

Dress Blues Cover w/ large gold EGA

Head Gear


Lightweight Helmet
Reversible Helmet Cover
Desert

Woodland
PVS-14 PASGT Night Vision Mounts

Helmet bands
OD Green

Tan
ESS Ballistic Goggles w/ Cover
Body


Modular Tactical Armor

MOLLE vest (Extra PALS webbing)

MOLLE triple STANAG Pouch (3 magazines each)

Improved First Aid Kit (IFAK)

Black ballpoint pen

Black Sharpie

Canteen x2

Grenade Pouch

Flashlight

Green Chem light x2

OD Duty Belt w/ side release buckle
Other Gear
ILBE Assault Pack ArcTeryx


OD Sleeping Bag

OD Sleeping Pad

Towel x2

OD Poncho

Entrenching tool

Tent half and Stakes

OD Micro-fleece cap (beanie)

OD Scarf

Elastic Boot Bands x8

OD Liquid filled lensatic compass

Nomex Flight Gloves (OD or Tan)

Ammunition


Primary Weapon Magazine x(6)

Secondary Weapon Magazine x(0)
Hygiene


Razor

Razor Blades x10

Small Mirror

Shaving Cream (1 bottle)

Liquid Body Wash (1 bottle)

Bar of Soap x2

Soap Dish

Tooth Brush

Tooth Paste (2 small tubes)

Medicated Lip Balm

Sun Screen

Foot Powder

MOPP


M45 NBC Mask w/carrier

Mask carrier

Overgarments

Gloves and overboots
Other


Dog tags x2 w/ silencer

Wallet
SAMPLE ROLE-PLAY
Matt was staring down the scope of his rifle, watching the rest of the squad, waiting to provide covering fire. They stopped so the sergeant could give out orders. Matt looked around them, and noticed a small squad of enemies approaching them. "Sergeant, squad of tango's headed to your position," he said over the radio.
The sergeant responded, "Got it Private, I need you to begin firing once they're within 30 meters of us." The squad scattered into a defensive position and waited. The enemies were slowly getting closer and closer, looking around to avoid an ambush. Too late...
Matt took a deep breath, aimed down the scope, and fired. Headshot. "Tango down!" The squad and Matt opened fire with the element of surprise. Within about a minute of constant firing, all enemies were down. Only one Marine had an injury, and it was nothing more than a scrape.
The sergeant talked over the radio, "Good job Marines. All enemies dead. Let's move out." With an oorah, the squad continued on their way.
OUT OF CHARACTER INFORMATIONPlayer Name
: Matt Wolfe
Player E-Mail
: kennedyre1@yahoo.com



Posts

: 14


Join date

: 2010-04-26




---
Permissions in this forum:
You
cannot
reply to topics in this forum